So our Summer 2022 back home in England has come to an end, and we're headed to distant shores once more! We have some great memories to look back on, here's some of our fave pics and some lovely reviews from our performance this summer, thank you so much to all who booked us, came to support and made this summer so awesome!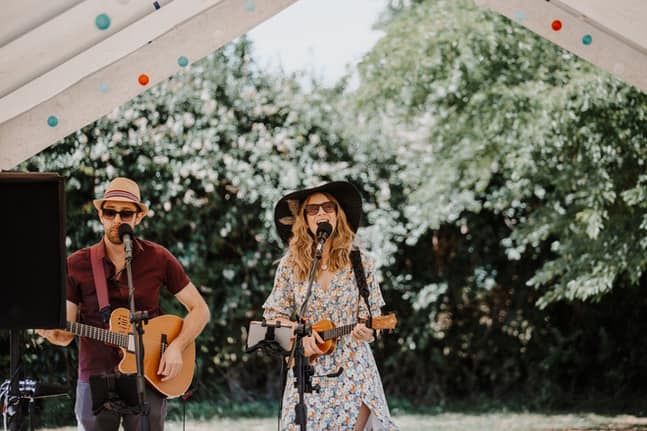 Rose and Patrick left us this lovely review:
"We used this band for our wedding and they were exceptional from start to finish. Really helpful and friendly from the first phone call all the way through to the big day. They did an acoustic set outside which set the whole afternoon off and in the evening they moved inside to start the dancing off. The vocals were stunning and really couldn't fault a single thing from the music down to how friendly and professional the band members were. Mia took my playlist to play in between their sets and sorted it so it wasn't all jumbled. They didn't sound like "every other wedding band" and the way the band changes from the acoustic duo to the more upbeat full band ties the whole day together as well as completely changing it. Have already recommended them to people and wouldn't hesitate using these guys again."
Also we love the pictures from Kalidron.Photography ❤️😁 Check out https://kalidron.photography/ for more.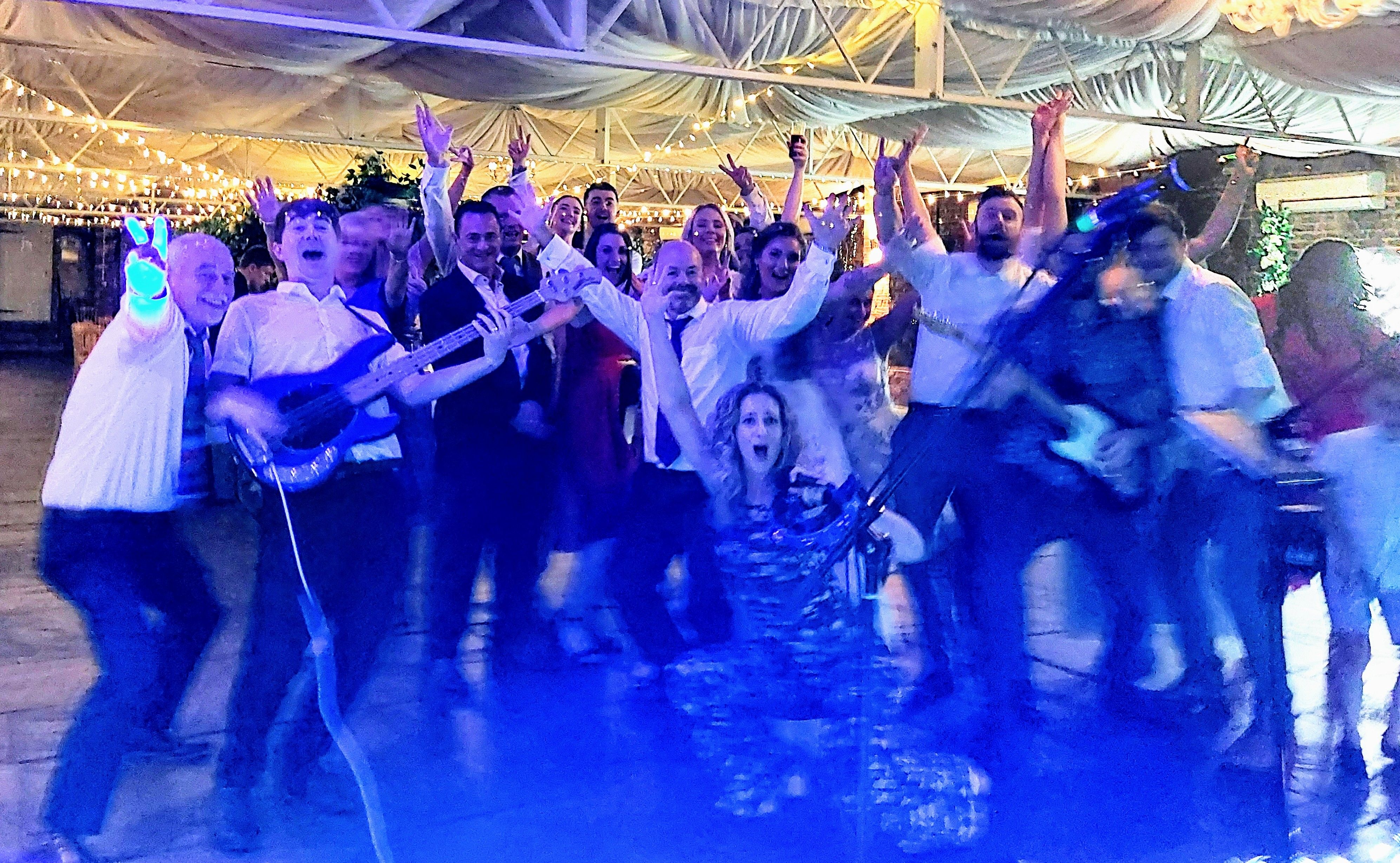 Ellie and Ash had a beautiful day at Northbrook Park, and it was amazing to be a part of it:
"We were lucky to have The True Colours play at our wedding in July, and they really added another level to our day. 
Mia and Dan started as a duo act during our drinks reception, and then the rest of the band joined for the rest of the evening. 
The whole group are so lovely and easygoing, and the atmosphere they added to the day was priceless, we could not recommend them enough!"
Northbrook Park is a great venue for weddings and events, check it out here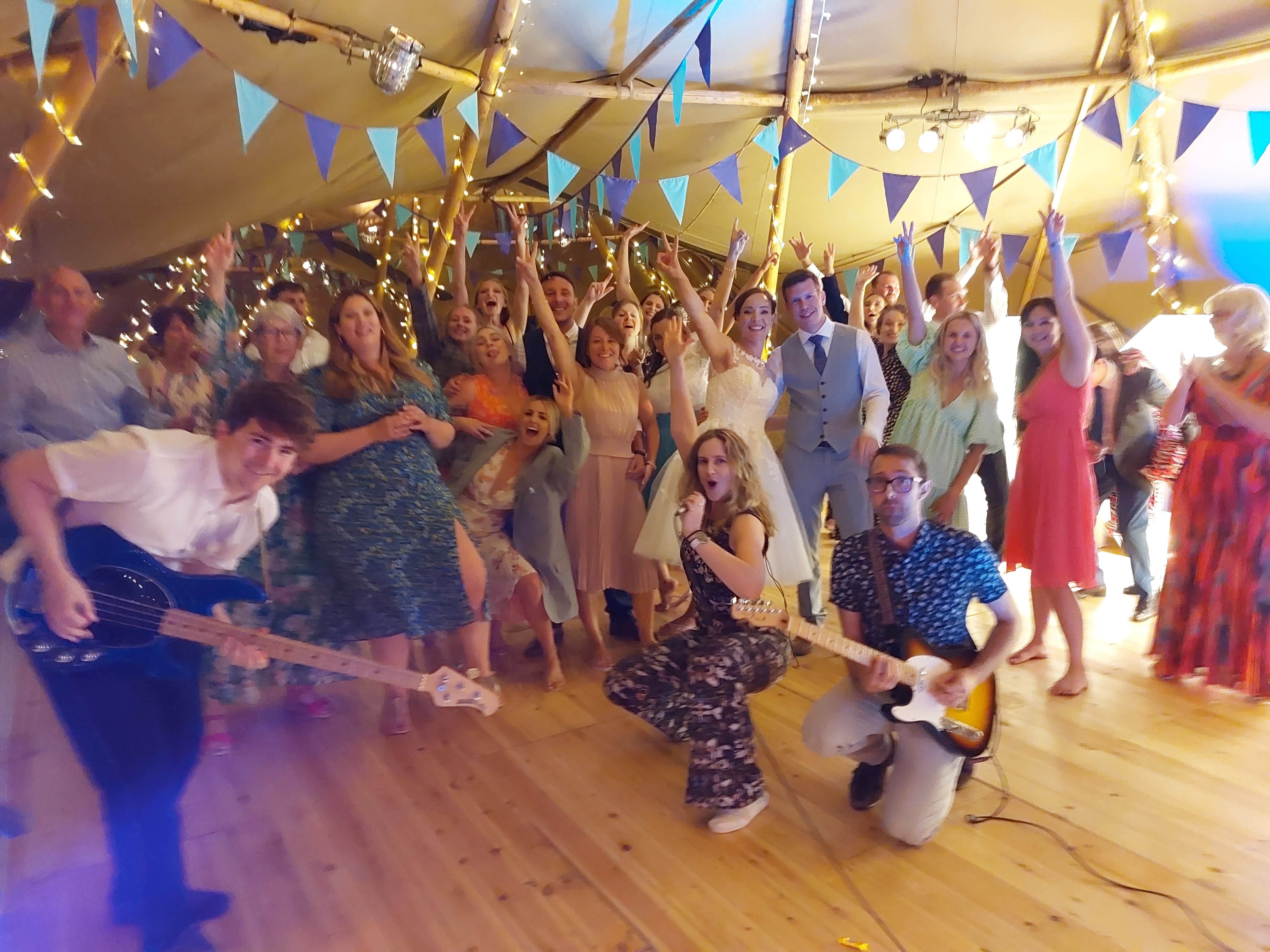 James and Sarah's big day was a full of colour and fun in the walled garden at Holywell Estate, love this review:
"We just wanted to say a huge thank you for playing at our wedding on Saturday, you were absolutely fantastic! All the guests were so impressed and kept saying how good you were. The first dance song was amazing and the party continued from there with your amazing playlist that kept people on the dance floor! You helped make our day very special and we look forward to seeing you live again."
Check out Holywell Estate for an awesome tipi venue! https://holywellestate.co.uk/
Check this great review from our gig The Festival of Sport for the British Army this summer:
"Flawless performance with infectious enthusiasm throughout the night, really made the evening. Top of the list for future events."
One of the best 'photos from the drum kit' of the summer at Sam and Dan' wedding Huntlands Farm!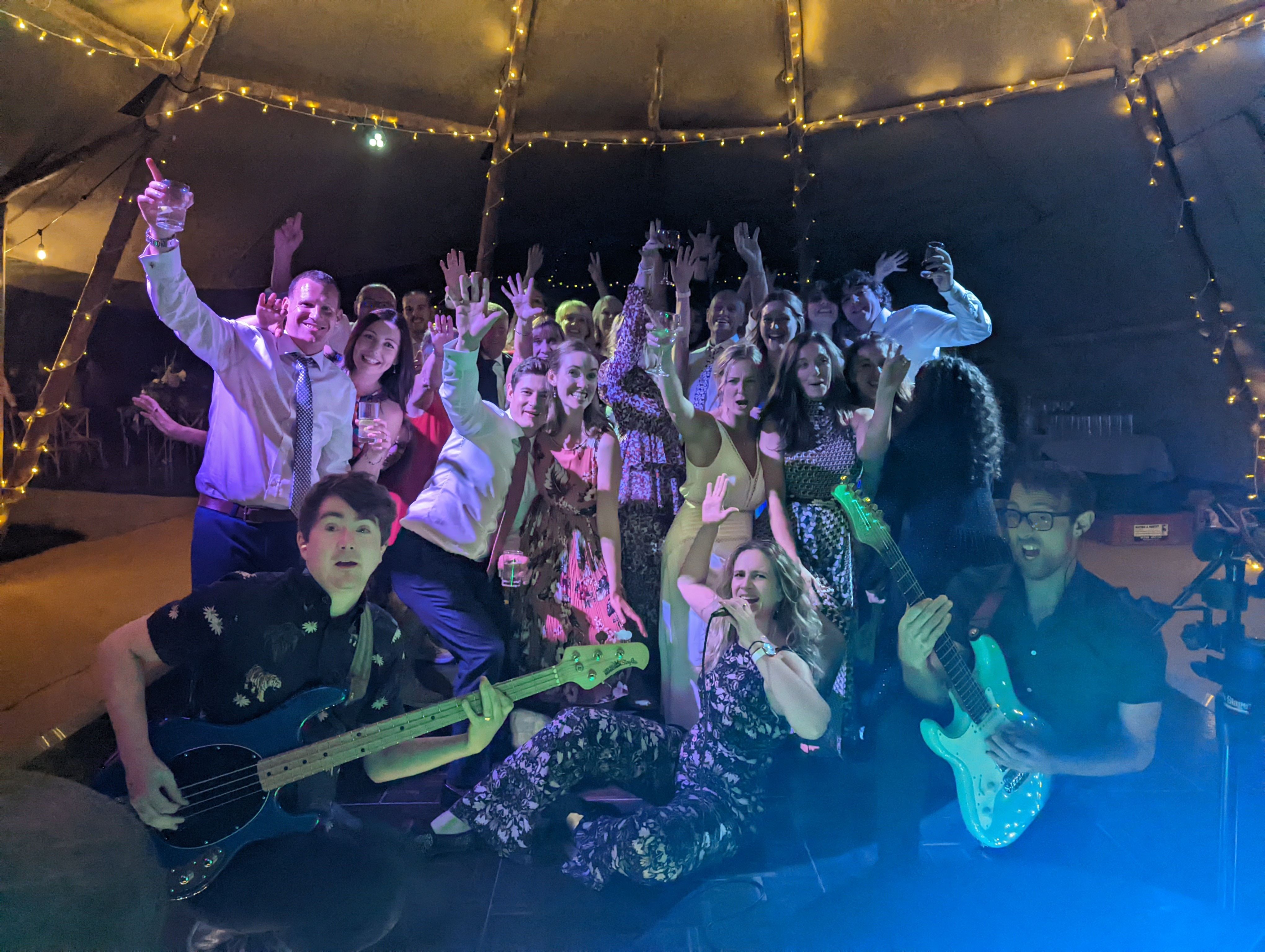 Such good memories from Annette and Andrew's joint 60th bash! Thanks for this review:
"'We booked this amazing band for our joint 60th birthday party and could not have been happier. Not only are they all truly talented, they are such lovely people to have around. Every single guest has told us that they thought you were wonderful. We cannot thank you enough for making our party absolutely perfect."
How can we forget our trip to Wales to play Beth and Matt's wedding! A stunning hilltop venue, New House Country Hotel overlooking Cardiff as well.
"Absolutely brilliant great changes of tempo, ability to get people on the dance floor and engage with people as well as playing some quieter more reflective songs"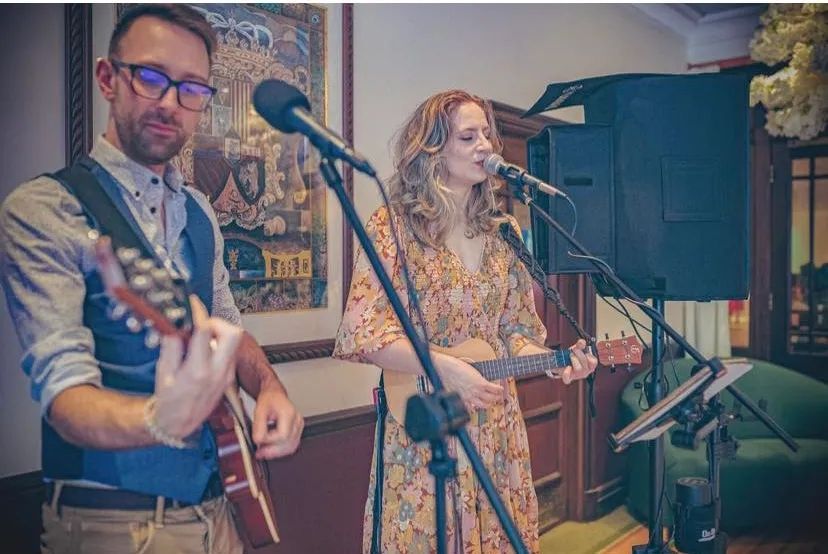 We went to Ipswich for Victoria and Sam's big day, and after having to postpone a few times, it was great to finally celebrate with them! 
"We were so so happy with Mia and Dan at our wedding. They look fantastic, they're music and selection is amazing and so many guests were amazed at our fabulous band! They are so friendly and helped everything go smoothly for our welcome drinks. We couldn't of asked for a better band and they added that extra special touch for our day. I would highly recommend them to everyone!"
And shoot out to Pews Bar, The Calleva Arms, Craft Brews UK in Frensham, for some lovely public gigs this summer!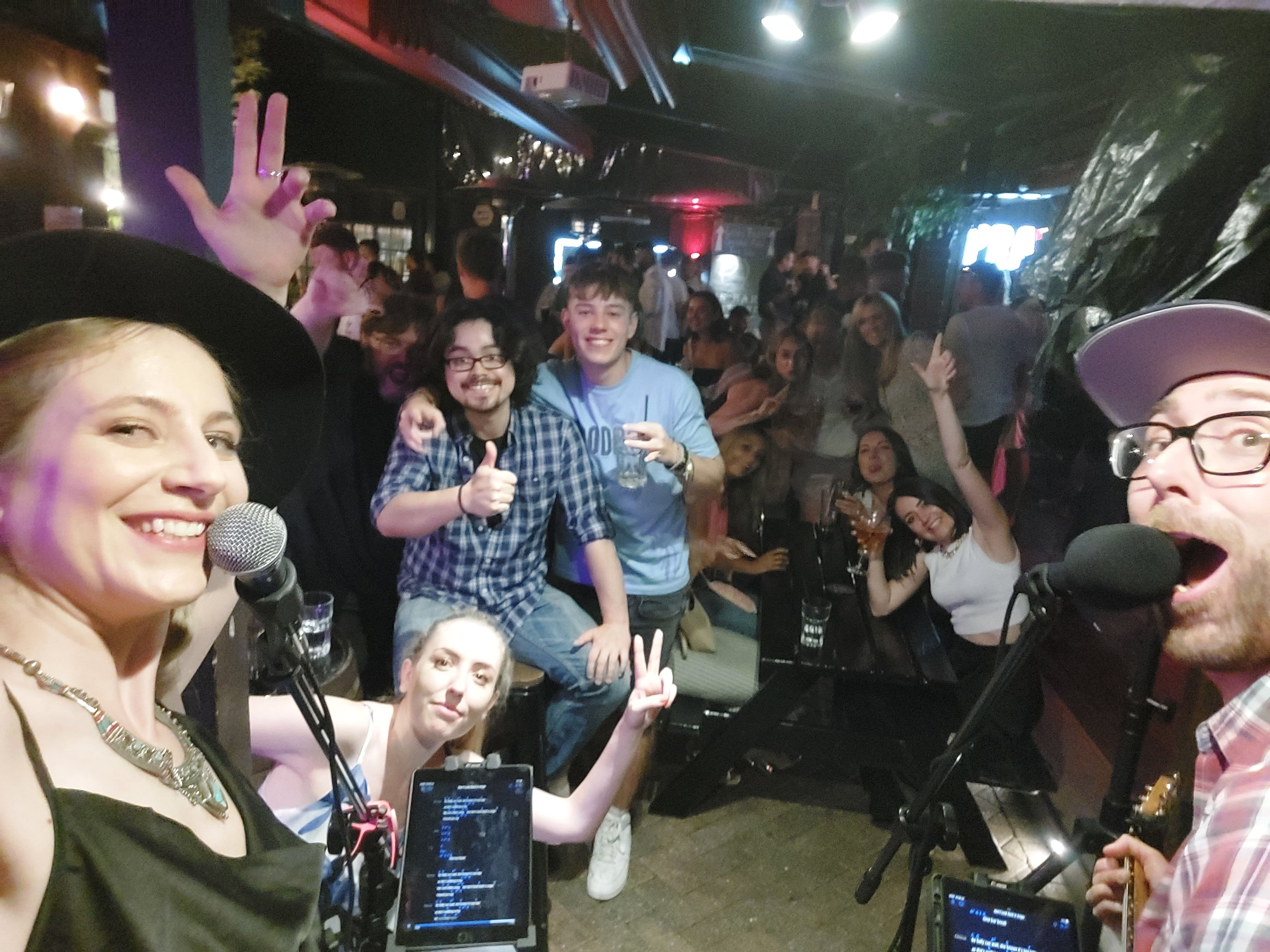 And we still have more reviews and pics coming in! If you saw us live this summer and want to leave us a review or share some pics we'd love that. Write us a review on our Facebook page, or on our Encore page and tag pics on Facebook or Instagram using our handle, @thetruecoloursmusic or email us at hello@thetruecolours.com
Stay tuned to see where we're headed next...! 
Thanks friends,
Mia and Dan