Engagements, Press, Performing for VIPs and playing Christmas songs in the summer... 
---
Hello!
So we've been sailing on the Celebrity Edge for over a month now, and our first cruise back on the 26th of June already feels like an age ago! We've had lots of people asking us what it's like out here, so here's an update with some of the highlights from our first month back onboard...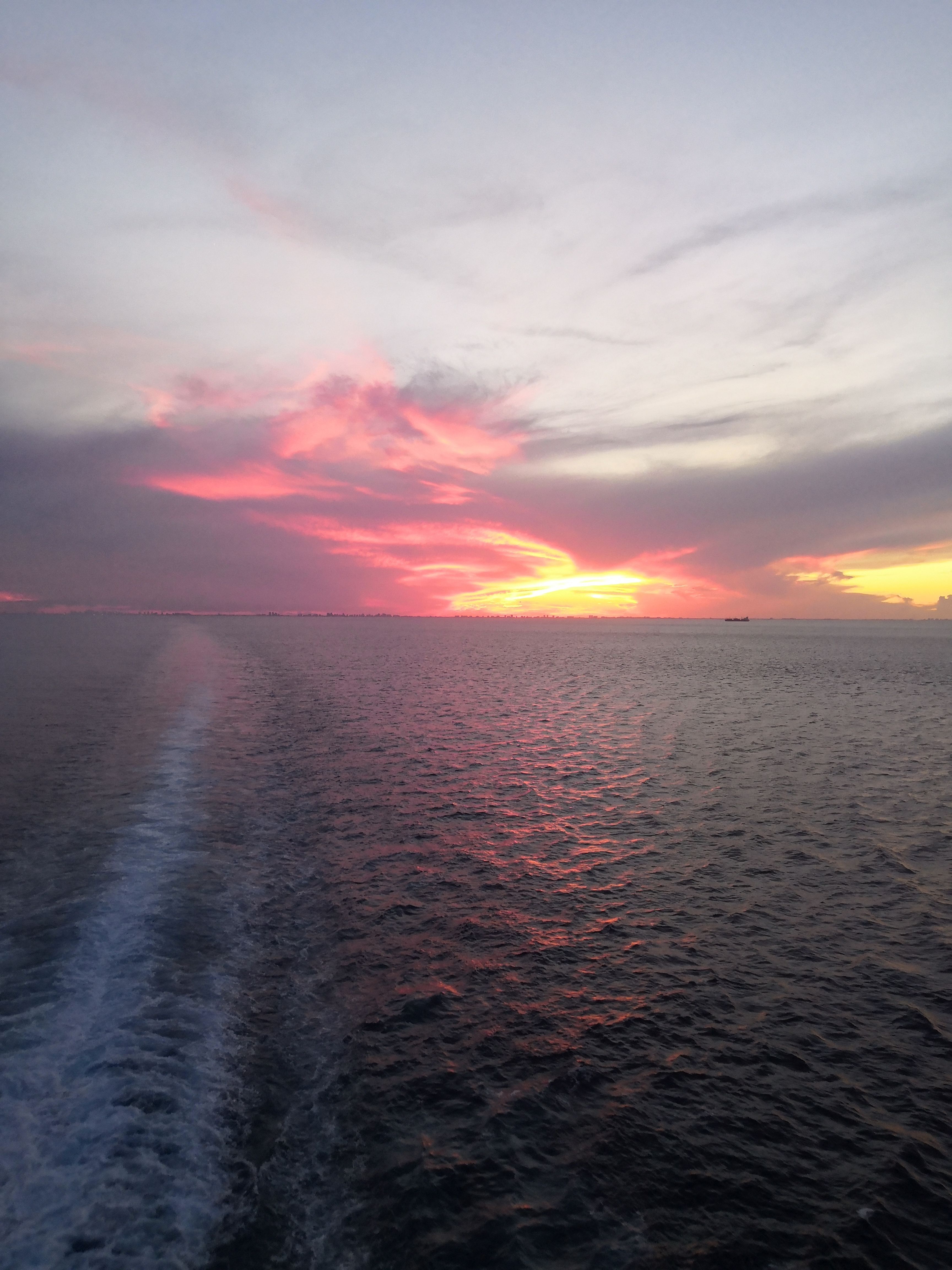 First and foremost, being back performing everyday as the True Colours, getting to hang out with and listen to other musicians from around the world, and collaborate. We missed this so much! This post below is from Charity Lockhart's headline show, performing with her daughter Jasmine and the Edge Ensemble. She is one of our resident headliners and is absolutely one of the best singers we've ever encountered.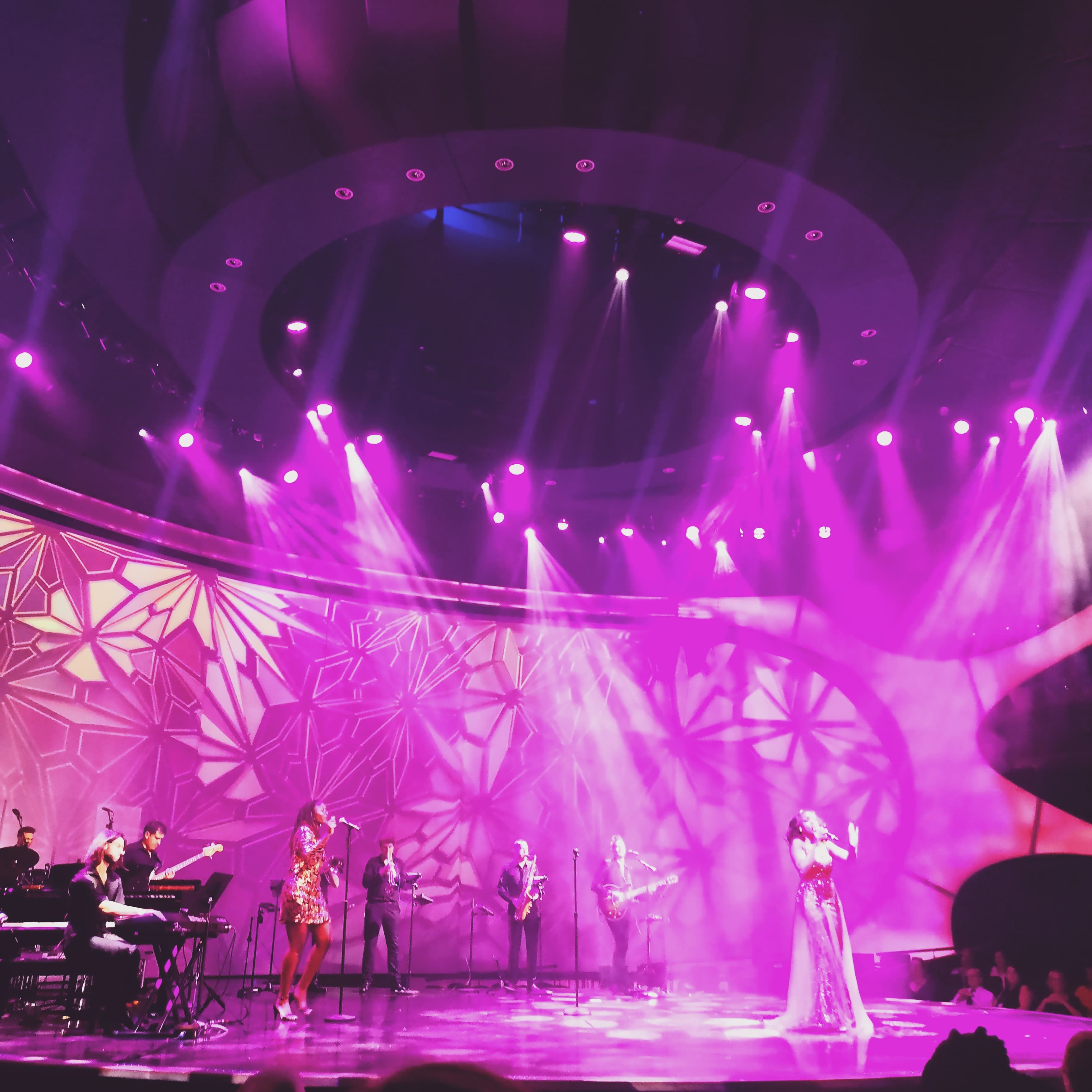 We've also LOVED the Edge production cast returning to the stage, performing 'Kaleidoscope', 'Colours of Life' and 'A Hot Summer Night's Dream'.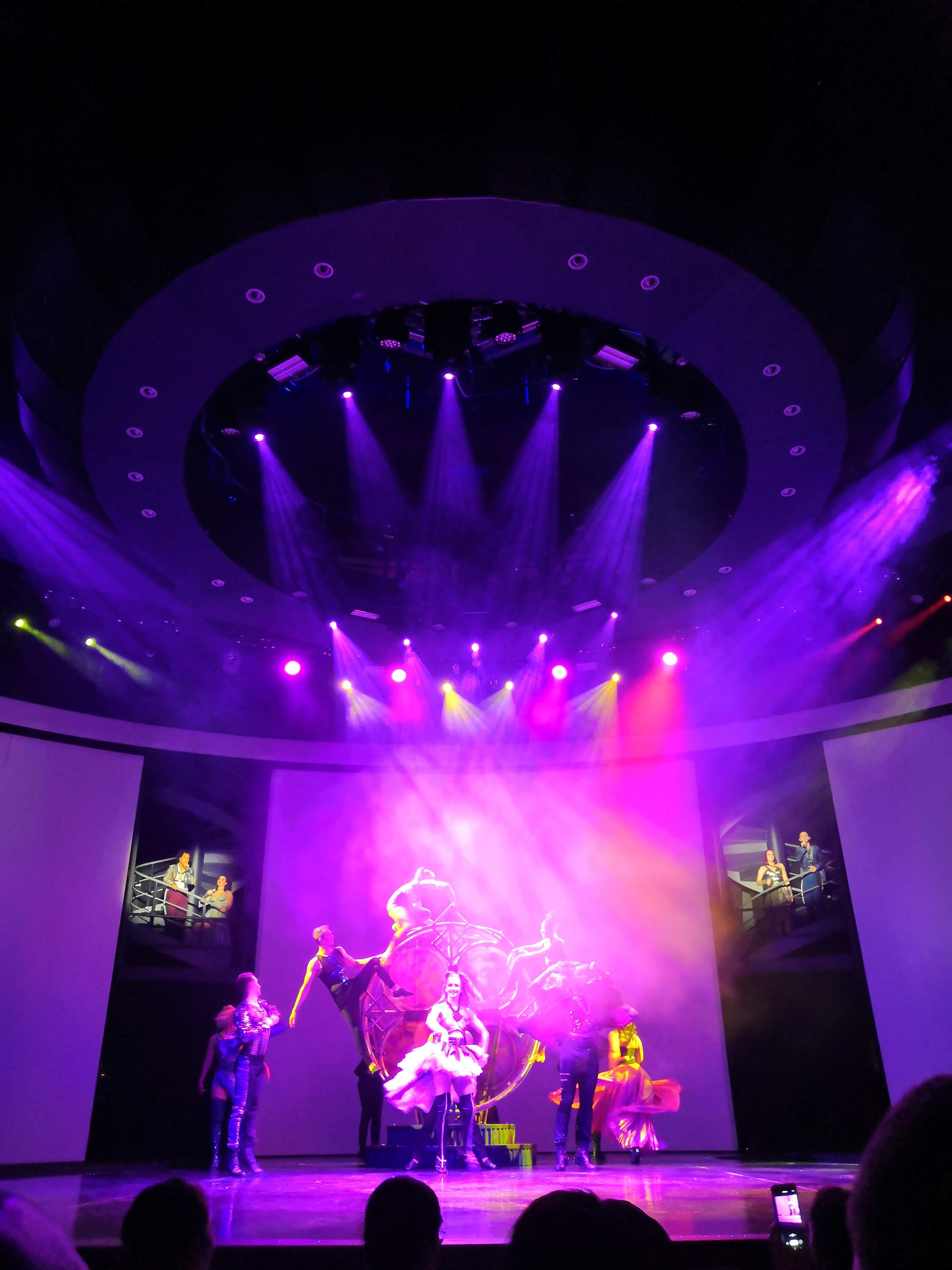 We love hanging out at the other musicians sets around the ship too! Such an awesome and talented team, Mambo 4 from Chile, Kyle Tacy from the US, Quinn Johnner from Canada, Soundtrack, from Columbia/Brazil, Nu Image from Jamaica, and The Acoustic Experience from literally all over. More pics and vids of bands and musicians onboard on our Instagram in our posts and stories. 
We've been performing for and hearing from bloggers and VIPs from the industry! As the first ship returning to service from America, all eyes were on Celebrity Edge, and we had all the VIPs on for the launch. Whether it's Richard Fain, the Chairman of Royal Caribbean Cruises getting behind the Martini Bar to shake up some cocktails during our set, hanging out with bloggers after sets, appearing in vloggers live streams (see below for one of our cameos) and even meeting our CEO and President of Celebrity Cruises, Lisa Lutoff Perlo, who was cruising with her family on the Edge.
Lisa is an advocate for equality and diversity within the industry, promoting the first ever female captain, and overseeing the first all female bridge team on celebrity Edge last year. Lisa happened to be watching our Best Of Fleetwood Mac performance, and was kind enough to tell us after that she really enjoyed it. (Phew!) 
For some great blog posts on the first sailings check out Bill's site Cruise Habit. And check out our cameo at 43 mins in this vlog from EECC Travels!
Celebrating Pride Month, and being amongst a diverse group of amazing people again has definitely been another highlight. Captain Kate held a ceremonial raising of the Pride Flag and it was great to be a part of this!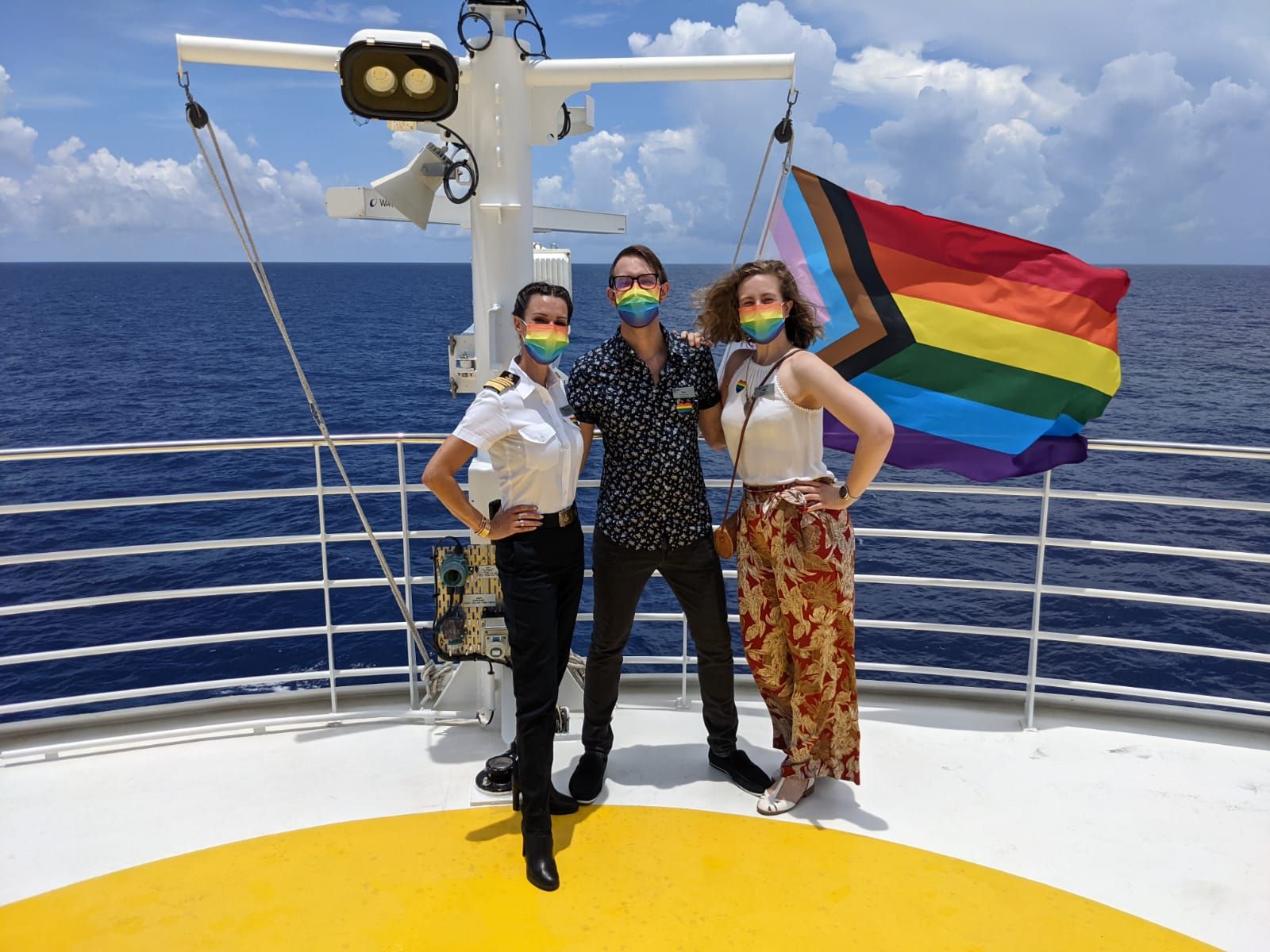 And yes, we were featured in a CNN article, you can read it in full here! With a huge percentage of the passengers being from major US news networks, we spent much of the first cruise dodging filming and interviews, events, and even live broadcast from the ship of Good Morning America... But chatting to someone after a gig we realised even they were doing research for a story, and of course, we ended up getting a mention!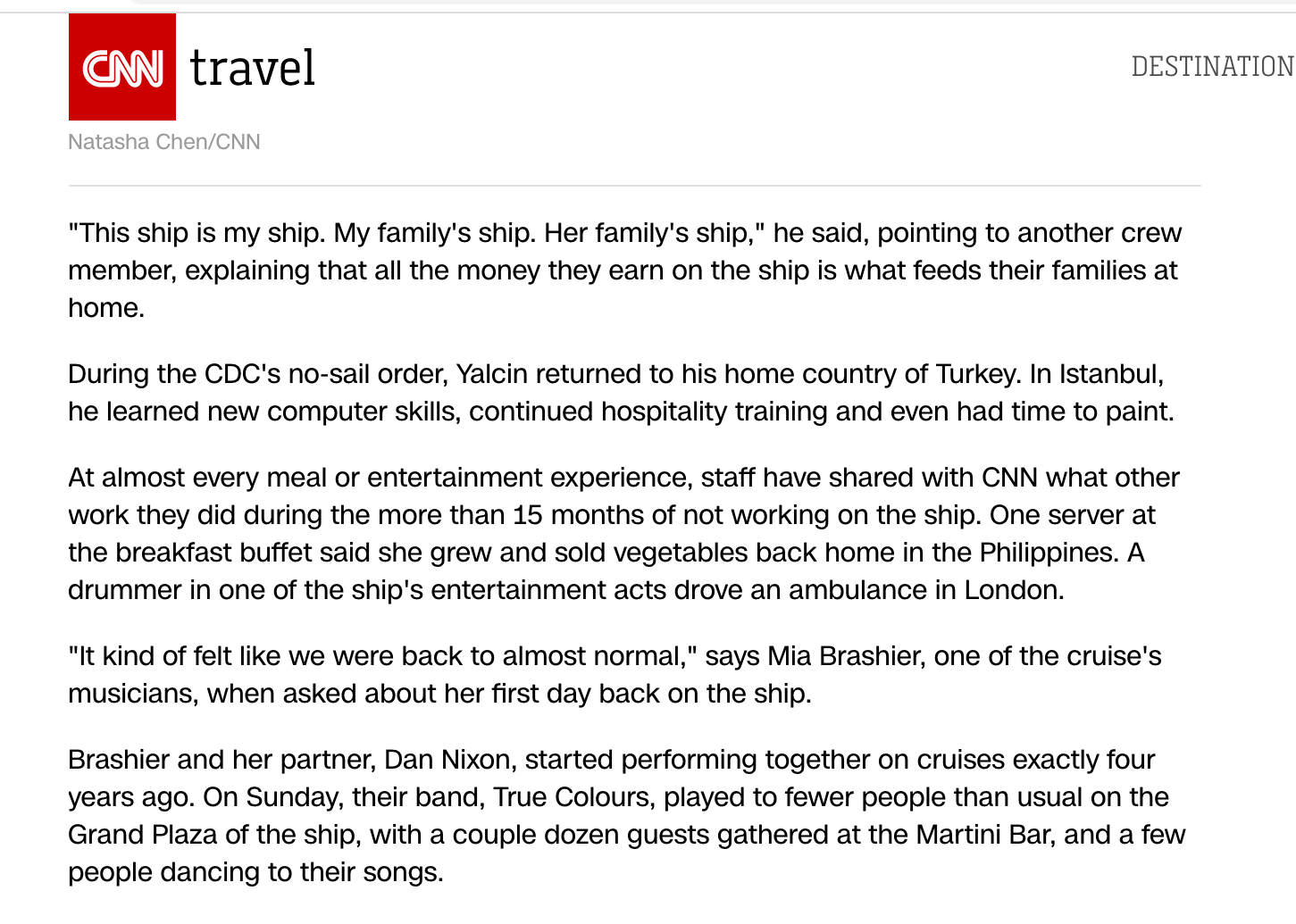 Our good friend and amazing American singer and guitarist Kyle Tacy was reunited with his Indonesian girlfriend Putri onboard after over a year apart. Separated by the pandemic, the reunion was made even more special when Kyle conspired with the one and only Captain Kate to propose to her on the bridge! Check out the video Captain Kate made that's been seen by her 2 million TikTok followers, we shared it on our facebook page here. Warning, you'll need tissues handy! 
Speaking of engagements, we were part of a beautiful moment, when Bill proposed to Monica in the Grand Plaza as we were playing. A gorgeous couple, who met 8 months ago, they shared our love of Fleetwood Mac and we played Songbird for them as they danced arm in arm. So magical!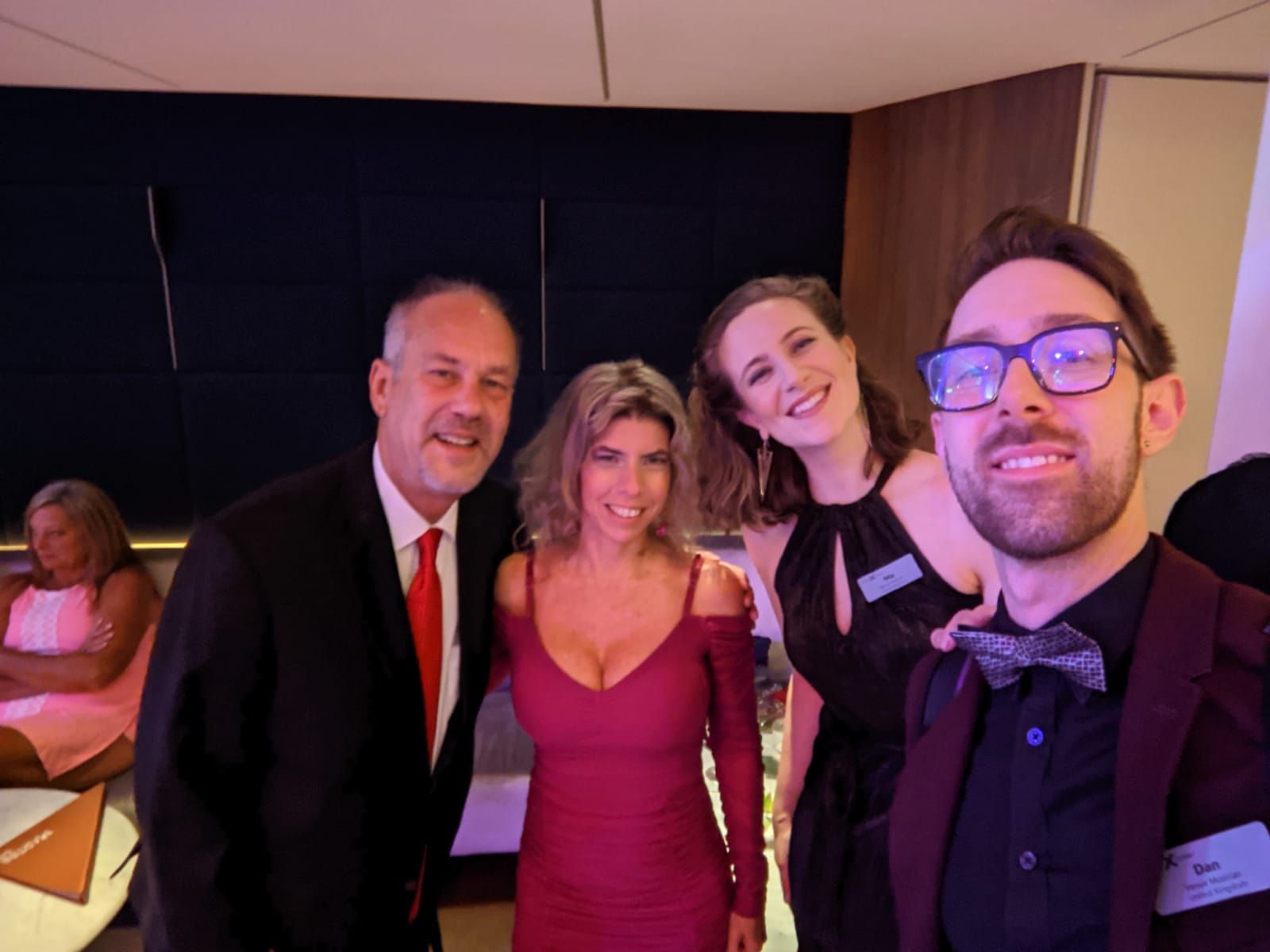 And finally, being able to play special songs for the people we meet, from delayed honeymoons, wedding anniversaries, and all sorts of special occasions people are so pleased to finally be able to celebrate!
Our favourite request though was a few nights ago, an 8 year old boy approached us during a set, asking us if we could please sing Feliz Navidad, because his favourite thing was Christmas. Now normally we would refrain from and Christmas songs out of season, but we couldn't refuse this very small, very cute, gentleman. After asking why my guitar was so small, he proceeded to join us singing and dancing as we sang and played Feliz Navidad in the Grand Plaza of the Edge, in the middle of summer, melting everybody's hearts in the vicinity.
Thanks for reading! Great to see more ships getting back into service now, say hi if your back onboard, or heading out, we love keeping in touch with everyone we meet from around the world! Enjoy this particularly goofy picture of us about to play in Eden... 
Mia and Dan x